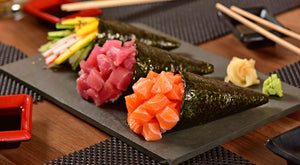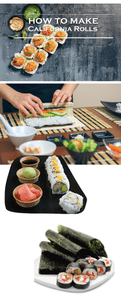 How to Make California Rolls
Ingredients (8 rolls)
- 2 cups sushi rice, rinsed and drained
- 2 cups water
- 1/4 cup rice vinegar
- 2 tablespoons sugar
- 1/2 teaspoon salt
- 2 tablespoons sesame seeds, toasted
- 2 tablespoons black sesame seeds
- Bamboo sushi mat
- 8 nori sheets
- 1 small cucumber, seeded and julienned
- 3 ounces imitation crabmeat sticks, julienned
- 1 medium ripe avocado, peeled and julienned
- Optional: Reduced-sodium soy sauce, prepared
- wasabi and pickled ginger slices 
Directions
- Cook rice: combine rice and water; let stand for 30 minutes. Bring to a boil. Reduce heat to low; cover and simmer for 15-20 minutes or until water is absorbed and tendered. Remove from the heat. Let stand, covered, for 10 minutes.
- Prepare sushi rice sauce: combine the vinegar sugar and salt in small bowl, stirring until sugar is dissolved.
- Put the cooked rice to a large shallow bowl; drizzle with sushi rice sauce. Stir cooked rice to cool down with a wooden paddle or scoop slightly. Cover with a plain cloth to keep moist.
- Place sushi mat on a work surface; line with plastic wrap.
- Scoop a 3/4 cup of cooked rice on top of plastic wrap. With moistened fingers, press rice into an 8-in. square. Top with 1 nori sheet.
- Arrange a small amount of cucumber, crab and avocado about 1-1/2 in. from bottom edge of nori sheet.
- Roll up rice mixture over filling, using the bamboo mat to lift and compress the mixture while rolling. Remove mat; roll sushi rolls in sesame seeds. Repeat with remaining ingredients to make 8 rolls.
- Cut each into 8 pieces.
- Serve with soy sauce, wasabi and ginger slices if desired.
Nutrition Facts
1 piece: 5 calories, 1 fat (0 saturated fat), 0 cholesterol,
30mg sodium, 6g carbohydrate (1g sugars, 1g fiber), 1g protein