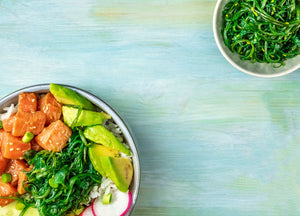 Salmon Skin Wakame Salad
Salmon Skin  Wakame Salad

Serves for 4

es for Cooking Time 30 mins

Ingredients;
* 1 1/2 medium Cucumbers julienne to 1/4 inch thickness
* 1 small pack of wakame 
* 2 Tbsp Sesame Seeds 
* 1 Lb Salmon belly w/ white skin preferred 
* Kosher Salt 
* Freshly Ground Black Pepper 
* 1/4 cup Bonito Flakes (thinly shaved)

Procedures;
1. Preheat the broiler. 
Run the edge of a kitchen knife against the scales and wipe dry. 
Repeat several times.

2.Cut the salmon into thin strips about ½ inches wide and ¼-inch deep. 
Cover the fillet with plastic wrap and place in the refrigerator for another use. 
3. Salt and pepper the salmon skin strips and place in the broiler until the skin is
crisp, crackly and dark brown—about 7 -9 minutes depending upon the
thickness. 
4.Remove from the broiler and set aside. 
5. Mix well wakame and cucumber pieces in a large bowl. Arrange the salmon
skin pieces over the wakame and cucumber.

6. Sprinkle bonito flakes and sesame seeds on top of that.
7. Toss and serve immediately.
---