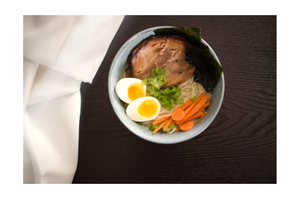 Our Tips to Make Perfect Ramen
Ah...Ramen. A perfect, warm bowl of noodles and goodness~
Originally from China, Ramen has become a popular staple food in many East Asian cultures, varying in style and taste. Japanese Ramen has a huge diversity of delicious soup bases and noodle styles, even varying from region to region.
KANEYAMA Authentic Japanese Ramen
 

is an instant meal (for two!) that satisfies the craving for that steaming, savory bowl of Perfect Ramen. It comes in the flavors

 

Kyushu Tonkatsu,

 

Tokyo Shoyu, and

 

Sapporo Miso. Here are our Tips to make your Perfect bowl of KANEYAMA Japanese Ramen:

 

Tip 1: Don't boil the noodles for too long
No matter what flavor, KANEYAMA Ramen only takes about 2.5 minutes to cook. Depending on how much water you use, this may vary slightly. To test that your noodles are done, take a bite of a noodle and see if the texture is right for you.
Tip 2: Adjust the flavor 
You can adjust the flavor and saltiness of your Ramen! By choosing how much water you use for your soup and how much of the flavor packet you use, you can cook up a bowl of your personal Perfect Ramen. You can also add chili oil or hot sauce for a spicy kick!
Tip 3: Add your favorite Toppings 
We promise, adding toppings will bring your Ramen to the next level~ We suggest you add a soft-boiled egg, some kind of protein,
 

nori(seaweed sheets),

 

pickled ginger, scallions, and other vegetables:
1) Chasu pork/Braised Pork Belly (as pictured), 2) Carrots, and 3) Mushrooms
~
1) Shredded chicken, 2) Steak, and 3) Bok choy
~
1) Corn (or Buttered corn), 2) Bean Sprouts, and 3) Kamaboko/Fishcakes (Available at Asian markets)
Other Ideas:
Furikake (Japanese seasoning), Kimchi (Korean fermented cabbage),
and American Cheese
Still hungry? Try adding a

bowl of white rice

to your leftover broth~ 
What are your favorite Ramen toppings?
Try them out with all the flavors of

 

KANEYAMA Ramen!
---