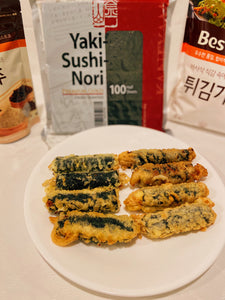 How to Make Gimmari (김말이)- Fried Seaweed Snacks!
Gimmari is a famous Korean street food side-dish that will often be eaten with noodles like Ramen or Spicy rice cake (Tteokbokki). Crunchy, perfectly seasoned, and delicious, Kimmari will become your staple fried side-dish.
Though Gimmari can be deep fried, this recipe will only lightly fry in minimal oil to have a healthier result without sacrificing any taste!
Ingredients
Vermicelli noodles

1 tbsp flour

1 tbsp tempura powder (or pancake powder)

1 tsp soy sauce

Any high-heat oil (vegetable, olive, etc.)
1.) Fill a medium-sized pot with water and bring it to a boil
2.) Add vermicelli noodles and boil for 10 minutes
Note: You can soak the noodles in room-temperature water ahead of time to speed up the cooking process
3.) While the noodles are boiling, prepare the batter;
In a bowl, combine your flour, tempura powder, and 2-3 tbsp of water. Mix well until there are no lumps. Adjust the amount of water according to your batter's texture.
4.) Prepare your seaweed sheets: Cut your full sized sheets into 4 square rectangular pieces or your half-sized sheets in half.
5.) Drain your boiled noodles and try to take out as much moisture as possible using a paper towel (since they will be fried).
6.) Season your dried noodles with 1 tsp soy sauce and 1 1/2 tsp of black pepper 
7.) Place some noodles on top of your seaweed sheet and roll, sealing the ends with a little bit of water
8.) In a large pan, pour in just enough oil to cover the pan.
 

Bring to high heat. 
9.) While your oil is heating up, dunk your rolls one at a time into your batter.
10.) Fry your battered rolls in the pan, allowing about 5-7 minutes on each side before flipping.
11.) Enjoy your delicious Gimmari with a bowl of noodles or tteokbokki~
Less oil, more delicious! All in less than 15 minutes.
---