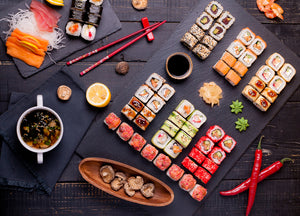 California Roll
California Roll
Serves for 4
Cooking Time 40 mins
Ingredients;
1/2 lb Imitation crab meat (the "log" shaped crab meat is recommended)
1 Avocado ripe but still firm
1/2 medium cucumber peeled and sliced into long julienne strips
Half size of roasted nori Seaweed (If you have full size of seaweed, you can cut and use it.)
Toasted sesame seeds
A sushi rolling mat 
Cooked and seasoned sushi rice
Soy sauce regular or low sodium
Wasabi paste or wasabi powder
Procedures;
Wrap your sushi mat in plastic wrap before using it.
Slice up your veggies.
Place the nori on your sushi mat.
Spread a handful of sushi rice onto the 1/2 sheet of nori. Use your wet finger tips to spread the rice evenly over the entire surface of the nori.
Flip the rice covered piece of nori over so the rice is facing down. Place your fillings in the middle of the nori.
Start rolling away from you using your mat to firmly keep the roll in place. Apply some pressure to make a tight roll. Once the roll is complete, sprinkle toasted sesame seeds on the roll.
Run your sharp knife through a damp paper towel before slicing so the rice won't stick as much. Slice the roll even 1-inch cut.
Enjoy your roll with the wasabi soy sauce.
---